Molasses spill kills wildlife in Honolulu Harbor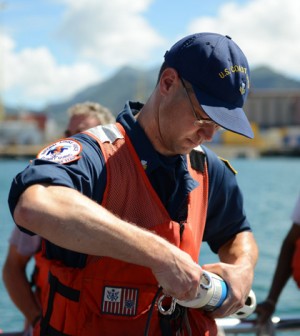 Coast Guard Petty Officer 1st Class James Moore prepares a water quality instrument used to monitor depleted oxygen and pH levels in the Honolulu Harbor (Credit: Coast Guard News, via Flickr)
A shipping company spilled more than 230,000 gallons of molasses into Hawaii's Honolulu Harbor, killing some 25,000 fish, according to an Associated Press report.
Matson Navigation workers were loading a ship with the highly viscous liquid made from Hawaiian sugar cane when a pipe filling the ship ruptured. The pipe released molasses into the bay, suffocating fish and prompting the state to attempt to evacuate wildlife.
Matson admitted fault in the incident and will pay for remediation.  The U.S. Coast Guard deployed a special hazardous liquids task force to test water for dissolved oxygen concentrations and evaluate damage.
The state never inspected the pipeline, which transported molasses to ships in the harbor.
Image: Coast Guard Petty Officer 1st Class James Moore prepares a water quality instrument used to monitor depleted oxygen and pH levels in the Honolulu Harbor (Credit: Coast Guard News, via Flickr)