Monitoring finds oil sands pollutants traveling farther than previously thought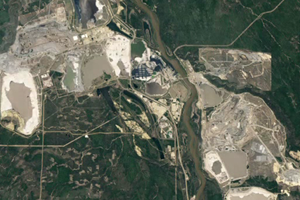 Canada's federal oil sands pollution monitoring efforts have detected contaminants in the environment farther away from the extraction operations than previously thought possible, according to Postmedia News.
The discovery of polycyclic aromatic hydrocarbons, or PAHs, in lakes around 60 miles away from oil sands sites means that the footprint oil sands pollution may be up to four times larger than expected based on previous research.
The research found that PAH concentrations in the sediment of study lakes have increased from 2.5 to 23 times since the 1960s, roughly parallelling the growth of oil sands extraction.
Image: Satellite images show the growth of pit mines over Canada's oil sands as of 2011 (Credit: NASA/Goddard Space Flight Center)