Montana still investigating Yellowstone River oil spill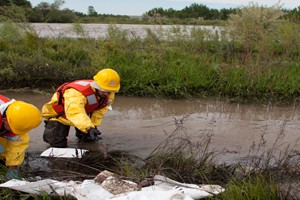 Nearly a year after an Exxon Mobile pipeline leaked 60,000 gallons of oil into the Yellowstone River, Montana environmental officials are looking for remaining contamination on the stream after workers recently spotted sheens on the water downstream from the leak site, according to a report from the Associated Press.
Tests from one site under study have shown no signs of oil contamination, and results from several other sites are pending. Officials are also studying fish for effects of oil exposure.
Read more at Businessweek.
Image credit: WBUR.