Most Americans unfamiliar with fracking process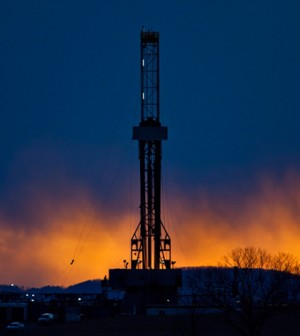 Image: Hydraulic fracturing drill rig in Pennsylvania (Credit: Environmental Protection Agency)
A survey from Yale University finds that most Americans unfamiliar with fracking, wherein water and chemicals are injected into underground rock at high pressure, cracking it to free trapped natural gas.
When asked how much they had heard about fracking, 68 percent of respondents reported they didn't know, had heard nothing at all or had only heard a little about the process. Only 9 percent said they knew a lot about fracking.
The survey found that respondents who were familiar with the process were evenly split between opponents and supporters. Those supporting it cited economic and energy benefits, while those opposing pointed to its environmental impacts.
Image: Hydraulic fracturing drill rig in Pennsylvania (Credit: Environmental Protection Agency)