NASA conducts high-altitude tests of space-based instruments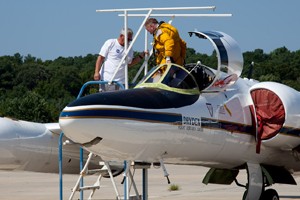 Teams developing new environmental monitoring instruments for future satellites are midway through a high altitude testing period, according to a NASA press release.
The teams attached their sensors to an ER-2 high altitude research aircraft, which will fly the vessels up more than 60,000 feet. Both devices are laser based. The Cloud-Aerosol Transport System will monitor and detect different types of particulate in the Earth's air. Previous aerosol sensors can see plumes of particulate but cannot detect what kind of material they are according to the release.
The second instrument , the Multiple Altimeter Beam Experimental Lidar, was built to simulate the main instrument on the satellite ICESat-2, which is scheduled to launch in 2016. The device measures surface ice cover, water cover and vegetation. Engineers have already tested the instrument over ice, so this trial run will cover forests from Maine to Florida.
The ER-2 arrival at NASA's Wallops Flight Facility, Wallops Is., Va. (Credit: NASA/Brea Reeves)