NASA craft to fly over Houston in air quality study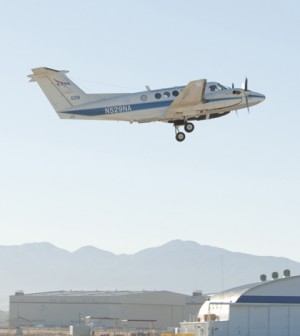 A NASA-operated B200 King Air (Credit: NASA)
Two NASA monitoring aircraft will fly over Houston in an effort to collect data on air pollution, according to a release from the agency. The flights are slated to begin Sept. 4 and continue routinely for one month.
The aircraft include a P-38 Turboprop and a B200 King Air equipped with air monitoring equipment taking readings on weather conditions and with capabilities for discrete air sampling. Each is part of a five-year study called DISCOVER-AQ, which is led by the Langley Research Center in Hampton, Va.
Flights will be at altitudes as low as 1,000 feet to get snapshots on air quality. Results of the study are expected to help NASA researchers improve the ability of satellites to observe air quality in the lowest part of Earth's atmosphere.
Image: A NASA-operated B200 King Air (Credit: NASA)