NASA researchers develop new Doppler radar systems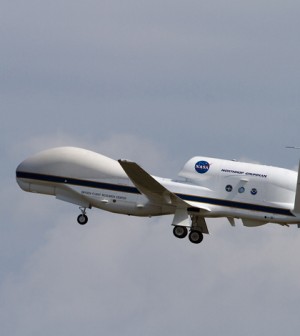 NASA engineers and scientists developed a new Doppler radar system for their unmanned aircraft, the Global Hawk, according to a NASA release.
The new autonomous system is called the High-altitude Imaging Wind and Rain Profiler. According to the release, the profiler uses dual-frequency conical-scanning Doppler radar.
It will hang from the Global Hawk's belly as it flies over hurricanes, collecting data.
HIWRAP's compact transmitters will consume less power than traditional radar systems. A digital receiver will provide flexible reception to various microwave frequencies returning from atmospheric particles.  The radar system sends out 5,000 microwave pulses per second.  The team is working to identify individual pulses as they return to the receiver.
Development of the system will continue as it is tested on two Global Hawks.
Image: NASA's Global Hawk (Credit: NASA Wallops)