NASA to launch ocean wind monitor to ISS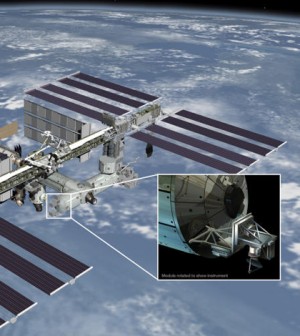 NASA plans to launch a new instrument to the International Space Station in 2014 to help measure ocean surface wind speed and direction, according to a release from the agency.
The instrument, named ISS-RapidScat, will help forecast global weather, monitor hurricanes and project the effect of ocean-atmosphere interactions on the Earth's climate.
The instrument will be able to monitor all parts of the world accessible from the space station's orbit and measure the Earth's global wind field throughout the day. Wind variances can play a significant function in the formation of tropical clouds and systems, which have a heavy influence on the Earth's water cycles.
The ISS-RapidScat is scheduled to be in operation for two years.
Image: Artist rendering of ISS-RapidScat (Credit: NASA/JPL-Caltech/JSC)