NASA's Aqua satellite charts Australian wildfires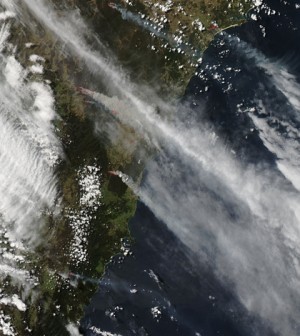 Australian wildfires captured by NASA's Aqua satellite (Credit: NASA)
Following intense wildfires in Australia, NASA's Aqua satellite has captured images of smoke drifting toward Sydney, according to a release. The images charted the effects that 90 wildfires had on the island nation.
On Oct. 17, 36 wildfires were burning out of control, the largest of which was the State Mine fire in the Blue Mountains. Experts say that dry vegetation, high temperatures and erratic winds produced conditions perfect for the spread of fire.
Thousands of Australians were evacuated to areas safe from fire. Hundreds of homes near the State Mine fire are likely to have been destroyed, firefighters say.
Image: Australian wildfires captured by NASA's Aqua satellite (Credit: NASA)