National Ecological Observatory Network Installs New Buoys At Two Florida Lakes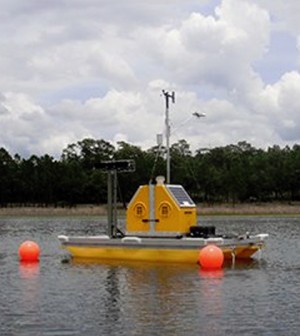 A monitoring buoy installed at Barco Lake. (Credit: National Ecological Observatory Network)
A national water quality monitoring network has added two lakes to its coverage with the installation of new in-situ sensor buoys at each site. Last June, the National Ecological Observatory Network, working with the Ordway-Swisher Biological Station, fitted aquatic sensors to buoys at Suggs Lake and Barco Lake in Florida, providing useful hydrological and meteorological data through the network's open access web portal.
"These sensors will provide continuously streaming data about the physical, chemical and biological environments of these lakes," said Charles Bohall, associate scientist with NEON. "The sensors are stationed at the surface of the lake most of the time, but every six hours will take a profile of the entire water column."
Each buoy is equipped with sensors measuring parameters including temperature, conductivity, pH, dissolved oxygen, nitrogen concentration, chlorophyll and visible light, as well climate conditions such as barometric pressure, wind speed and relative humidity. Bohall notes that the sensors are standardized across all NEON aquatic sites, allowing researchers to easily compare measurements from around the country.
NEON maintains a series of surface- and groundwater sensors throughout the continental U.S. Most of the sites in the network are operated in part by regional scientific communities; in this case, the OSBS via the University of Florida.
"One of the most important goals of this project will be the freely available data generated from each site — available to the scientific community, educators, lawmakers and the general public," Bohall said.
"The national scale of these data will also help to answer some of the 'Grand Challenges' of environmental science," he said, such as how humans are affecting the Earth's major biogeochemical cycles, or how changing climate and land use patterns are impacting natural ecosystems.
While Suggs and Barco Lakes are only a mile apart from one another, they are drastically different in composition: Suggs is shallow and teeming with life, while the much deeper Barco Lake is fed by an underground aquifer and is less biologically active.
Researchers from NEON and OSBS plan to install additional sensors at the inlets and outlets of each lake, permitting a "more comprehensive view of the physical and chemical environment of the whole lake," Bohall said.
"While there are not any specific studies that have been funded yet, [the National Science Foundation] has released a first round of grants to use NEON data from various sites," Bohall said. "In the future, we expect that researchers will have more opportunities to put together grants to use NEON data, sites and infrastructure."
Top image: A monitoring buoy installed at Barco Lake. (Credit: National Ecological Observatory Network)