National Ground Water Monitoring Network nears finalization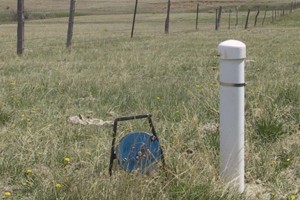 A national effort to monitor groundwater cooperatively across states nears finalization as pilot states evaluate their participation in the network, according to the National Water Quality Monitoring Council.
The National Ground Water Monitoring Network overseen by the Advisory Committee on Water Information was piloted by six states: Illinois, Indiana, Minnesota, Montana, New Jersey and Texas.  Feedback so far indicates that the network was useful for state collaboration, data sharing and evaluation of data collection and management.
The online network, set up by the U.S. Geological Survey, was released in beta form in 2011 and now developers are asking users for feedback.
A looming problem hampering full implementation is a lack of government funding.
Image: A monitoring well in Dawson County, Mont. that was part of the state's pilot program for the National Ground Water Monitoring Network (Credit: Clarence Schwartz, Montana Bureau of Mines and Geology)