National Wildlife Federation map shows toxic algae's extent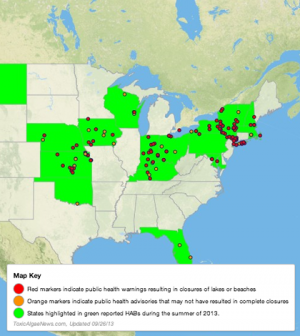 Toxic algae news map (Credit: Resource Media)
An online map developed with help from the National Wildlife Federation shows toxic algae alerts nationwide, according to a release. It shows that 21 states across the United States issued health warnings for harmful algal blooms at 147 different locations from May 5 to Sept. 16.
In concert with the map, the federation is also supporting the release of a new report that looks at the effects of extreme weather and nonpoint source pollution in spurring the growth of toxic algae. It reviews the health impacts and economic costs associated with the algal blooms.
The National Wildlife Federation says the incidence of toxic algal blooms continues to go largely unnoticed because there isn't a federal agency that tracks lake closures and health warnings. Also noted was the small number of states that monitor for toxic algae, which is currently less than half nationally.
Image: Toxic algae news map (Credit: Resource Media)