Navy researchers say Arctic may have no summer ice by 2016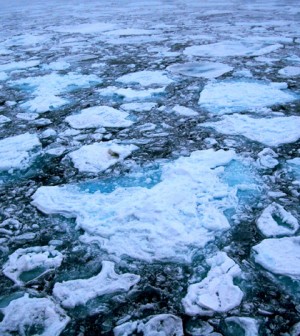 Arctic ice (Credit: Pink floyd88 a, via Wikimedia Commons)
Researchers at the U.S. Naval Postgraduate School say the Arctic might be free of summer ice by 2016, according to the Monterey County Weekly. The estimate is ahead of climate models predicting the ice loss to occur around 2100.
The Navy developed a targeted model to make the prediction, called the Regional Arctic System Model. It takes into account processes specific to the arctic, like river runoff, permafrost generation and glacial movement.
Other models project climate globally. Navy researchers say a targeted, regional approach makes their model more accurate and hope their approach can be used by other modeling groups.
Image: Arctic ice (Credit: Pink floyd88 a, via Wikimedia Commons)