New interactive map pinpoints Great Lakes restoration projects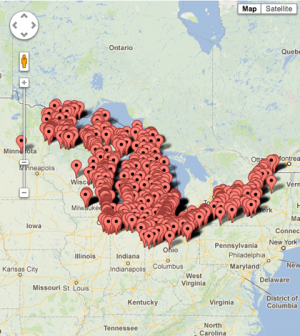 A new interactive map shows where Great Lakes restoration projects are taking place.
The Great Lakes Commission hosts the map on their website.  Points denoting different projects densely populate the shores of the lakes in all bordering states. The map lists about 1,000 restoration projects.
Metadata details grants received and the organization spearheading the project. Projects listed were last funded between fiscal year 2010 and 2012.
Users can select a state to see projects nearby. The map also has overlays for congressional districts and counties allowing users to easily find local projects of interest.
Image: Great Lakes Restoration Initiative map (Credit: Great Lakes Commission)