New map shows significant groundwater depletion in Central California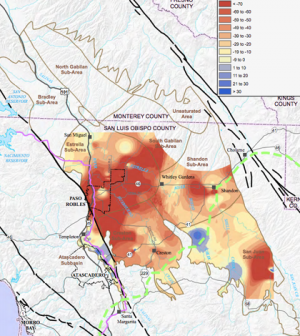 Map of groundwater depletion in San Luis Obispo County (Credit: San Luis Obispo County Water Resources)
Groundwater level data collected by a Central California county shows significant drops during the past 12 years, according to a San Luis Obispo Tribune article.
Data shows that groundwater has dropped by a minimum of 70 feet from 1997 to 2009 in the Paso Robles area of Central California.
In the past four years the areas of most significant decline have expanded north and south.
Drought and agricultural withdrawals are the likely culprits for the groundwater decline.
Some advocates are calling for more responsible water use by vineyards in the area, while farmers note that the recent drought did not help the situation.
Image: Map of groundwater depletion in San Luis Obispo County (Credit: San Luis Obispo County Water Resources)