New Mexico gets welcome rain after years of drought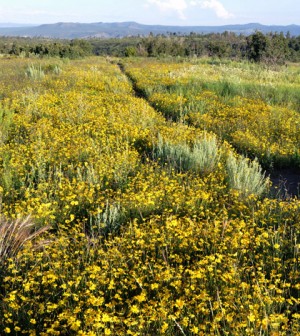 Wild flowers at Bandelier National Monument in New Mexico benefit from addition rain (Credit: Larry Lamsa, via Flickr)
After years of drought, New Mexico is getting an unusual abundance of rain, according to National Public Radio. The extra precipitation has covered the state's normally copper-toned mesas with lush vegetation.
Much of the additional rain is owed to an active monsoon season, which has brought heavy downpours. These have helped spur not just the rise of grasses, flowers and brush, but also insects that rely on such plants to survive.
Populations of birds, like swallows, are going up. And scientists surveying the area say increases to prey animals are helping those on up the food chain.
Image: Wild flowers at Bandelier National Monument in New Mexico benefit from addition rain (Credit: Larry Lamsa, via Flickr)