New report predicts Maryland sea level rise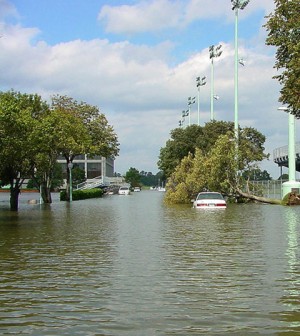 A new report authored by researchers at the University of Maryland Center for Environmental Science has projected that the sea level along Maryland's coast could rise by up to two feet by 2050, according to a release from the university.
The projections are based on the latest climate change information. The latest data shows that increased ocean volume because of warming, melting glaciers and ice sheets, changing ocean patterns and vertical land movement are all contributing factors that will lead to the sea rise.
The independent report shows that while scientists warn that sea level could rise by 2.1 feet by 2050, it is more likely to rise about 1.4 feet by that time. Researchers' ultimately concluded that the rise is unlikely to be less than 0.9 feet or greater than 2.1 feet.
Image: Flooding in Annapolis, Md., after Hurricane Isabel. Sea level rise could make such flooding worse. (Credit: U.S. Navy, via Wikimedia Commons)