New York river group teaches through invasive monitoring and eradication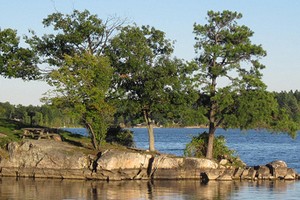 A New York river group teaches students about the environment by giving them hands-on experience monitoring and eradicating invasive plant species, according to North Country Public Radio.
A Massena, N.Y.  hydroelectric dam keeps water levels in the St. Lawrence River steady enough that it has become a haven for cat tails. Save the River members brought a group of students in to track the concentration of cat tails in the river. Then students pulled the plants from the ground to give native plants a better opportunity to flourish.
Save the River's goal is to return the area to a natural field marsh. It's a combination of wetland and open water, where indigenous plants, fish and waterfowl can live and breed.
They say pulling cat tails alone will not get them there, but the initiative is part of a larger plan to spread awareness for change.  The project is co-sponsored by The State University of New York's College of Environmental Science and Forestry.
Image: Wellesley Island in DeWolf Point State Park on the St. Lawrence River (Credit: Doug Kerr, via Flickr)