NexSens data buoy helps Lake Muskegon researchers fight toxins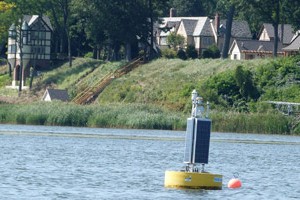 This summer, researchers from Grand Valley State University launched a water monitoring buoy in Muskegon Lake. The advanced buoy, designed by NexSens Technology, provides near real-time water quality, flow and weather data.
The buoy includes a multi-parameter weather station, temperature string, fluorometer, solar radiation sensor, nitrate sensor, and several multi-parameter water quality sondes. Also attached is an acoustic Doppler current profiler. Data is transmitted by cellular telemetry to a computer at the Annis Water Resources Institute and then posted to a publicly available website.
The data will be used to develop strategies, which will help improve lake water quality and perhaps get it removed from the federal government's Great Lakes Areas of Concern list. Public data access will also provide boaters and fishermen the latest lake conditions and facilitate K-12 educational programs.
The project was funded by the U.S. EPA's Great Lakes Restoration Initiative, and the researchers hope that funding will be available to keep the buoy in operation for many years to come.
For the complete story, visit http://www.gvsu.edu/wri/buoy/.