Next generation side scan sonar seabed imaging systems now available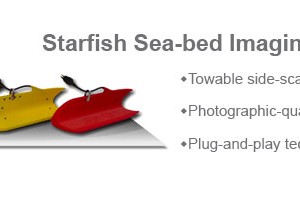 Tritech International, manufacturer of the hugely successful StarFish 450F Seabed Imaging System, has launched two new StarFish products that can produce even higher resolution images of the sea floor.
This family of side scan sonars now includes the StarFish 452F and StarFish 990F, each utilizing Tritech's signature full-body, compact, three-fin, hydrodynamic design. The imaging capabilities of both models are enhanced through the application of Compressed High Intensity Radar Pulse (CHIRP) and digital-signal-processing (DSP) techniques.
The StarFish 452F is an enhancement of the original StarFish, offering improved resolution with the same long acoustic range of 100 meters per channel. With half the horizontal beam angle (for twice the resolution) and advanced digital CHIRP acoustic technology developed from the professional underwater survey industry, the StarFish 452F produces crisper and cleaner imagery than the original. It competes with many larger commercial systems to produce spectacular images of the seabed and includes intuitive software with a variety of data export options.
The StarFish 990F represents the ultimate seabed imaging solution. With a 35 meter range capability on each channel (giving 70 meter total swathe coverage), it is designed for extreme high resolution surveys in ports, harbors, and inland waterways, such as rivers and canals. With detailed image definition and target detection, StarFish 990F is also ideal for search and recovery operations.
Based on the popular and proven 450F design, the StarFish 990F uses high frequency 1MHz acoustic chirped pulses with a 0.3 degree horizontal beam width to produce the most defined and clear images out of any StarFish system.
Measuring less than 15 inches long, the StarFish units are the smallest towed side scan sonars available. Each StarFish can run independent of the boat, requiring no fixed installation and making it easy to transport and operate from any vessel. The topside controller connects to any Windows PC or laptop via USB connection for easy operation by a single person. Simply deploy the sonar by hand and tow from a boat to capture and record real-time images of the sea floor.
StarFish systems offer true plug-and-play technology. They can be controlled by the user-friendly StarFish Scanline software. A software development kit is also available for download free of charge from the StarFish website, allowing users to integrate the system into their own software package.
To learn more about specific models, use the product links to the right. Or contact a call a Fondriest Environmental product specialist at 888.426.2151 or customercare@fondriest.com.