NOAA glider to circle the world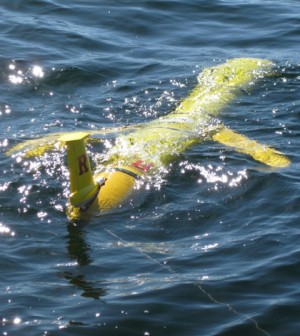 An autonomous glider operated by scientists from Rutgers University is on a mission to circle the world, according to a National Oceanic and Atmospheric Administration announcement.
The scientists launched the Slocum Glider on Jan. 12 off the coast of Cape Town, South Africa.  The glider is charted to cross the world and end in Norway. It will make a few stops along the way in Brazil and the Caribbean for checkups and fresh batteries.
The glider collects data on temperature and currents as it travels. The Rutgers team closely monitors location and speeds.  Problems have been limited to a minor compass malfunction, despite fears of a shark bite and previous electrical issues.
Check out the International Coalition of Ocean Observing Laboratories blog or Rutgers University Coastal Ocean Observation Lab's YouTube channel for videos and frequent updates on the glider's progress.
Image: The Rutgers glider shortly after deployment near South Africa (Credit: Rutgers/I-COOL)