NOAA instruments clarify heat-trapping effects of wildfire smoke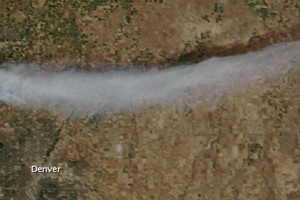 A first-of-its-kind analysis of smoke from a 2010 wildfire has given researchers new insight into the heat-trapping properties of wildfire soot particles, according to a release from the National Ocean and Atmospheric Administration.
Shortly after the Fourmile Canyon fire ignited outside Boulder, Colo., researchers in the nearby Cooperative Institute for Research in Environmental Sciences lab flipped on a set of custom-built instruments that analyze particles with light and lasers. The instruments showed soot particles produced by wildfire are covered in oils that magnify sunlight, increasing the warming effect on the surrounding air. Compared to an engine burning diesel fuel — a common source of atmospheric soot — a wildfire burns plant material less efficiently, producing the oils as a byproduct.
Scientists have predicted these effects from results of laboratory experiments, but this is the first evidence based on measurements of actual wildfire smoke particles.
The results of the study are published in the Proceedings of the National Academy of Sciences. The Cooperative Institute for Research in Environmental Sciences is jointly operated by NOAA and the University of Colorado.
Image: The Fourmile Canyon wildfire (Credit: Jeff Schmaltz, MODIS Rapid Response Team at NASA GSFC)