North Georgia companies pay for discharging in headwater streams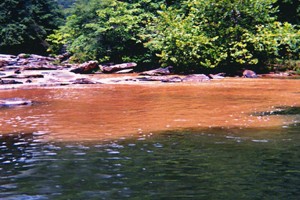 After encasing portions of four streams in north Georgia and dumping fill materials into them, The Duvall Development Co., Inc., and Duvall & Son Livestock, Inc. have been ordered to pay $30,000 and donate five acres of forested land to the Cattahoochee National Forest. In a lawsuit against the Environmental Protection Agency, the defendants were charged with dumping materials into tributaries of Stekoa Creek near their property without a U.S. Army Corps of Engineers-issued permit between 2004 and 2005.
The streams are headwater streams and provide resources and habitats for endangered species as well as recharge groundwater and cycled nutrients.
Read more at EPA Newsroom.
Image credit: rabuntu.org.