Nutrient monitoring shows Clark Fork River improving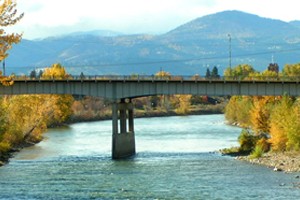 Efforts to cut nutrient pollution along Montana's Clark Fork River have led to a drop in total phosphorous along the entire stream, according to an analysis of 12 years of nutrient monitoring data.
The drop in phosphorous was largely the result of a 1989 basin-wide ban on phosphate laundry detergents, according to the study, which was recently published in the online version of the Journal of the American Water Resources Association and carried out by researchers from the Montana Department of Environmental Quality, University of Montana and Kansas State University. The researchers examined phosphorous, nitrogen and algal biomass data collected between 1998 and 2009 at eight sites.
1998-2009 Though the study didn't detect a significant decline in total nitrogen along the entire river, there were signs that nitrogen levels are dropping in the lower river, downstream of the city of Missoula. The city upgraded its wastewater treatment plant in 2004, which appears to have helped cut nutrients and algae downstream despite 20 percent pollution growth over the past decade.