Ocean acidification blog pools science on emerging issue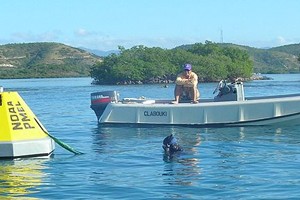 A blog dedicated to ocean acidification pools scientific research to create a resource for documented studies on decreasing pH levels in the world's oceans.
The Ocean Acidification blog, started in 2006 and sponsored by the European Project on Ocean Acidification sponsors, covers scientific studies and research papers on everything from marine animals to water chemistry and education.
Contributors include Jean-Pierre Gattuso, an oceanographer at the French Centre National de la Recherche Scientifique; Lina Hansson, project manager of EPOCA; and Anne-Marin Nisumaa, EPOCA information technology manager.
Moored Autonomous pCO2 (MAP-CO2) Buoy for ocean acidification research. Buoy engineered and deployed by the U.S. National Oceanic and Atmospheric Administration. (Credit: Hendee, via Wikimedia Commons)