Ohio agencies respond to algae toxins with monitoring, outreach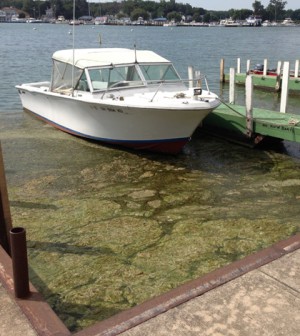 Harmful algal blooms, or HABs, were common in Ohio waterways in the 1990s. Monitoring helped knock them out then, but the blooms are making a comeback.
In response, the state of Ohio is ramping up monitoring efforts once again. The aim is to reduce and ultimately eliminate the blooms, which can leach toxins into water that impact aquatic life, make humans sick and hurt tourism to Lake Erie.
The Ohio EPA began its inland lakes monitoring program in 2008, following the results of a national lake survey which found cyanotoxins in seven of the state's 19 lakes. They were found to have detectable levels of microcystin, a cyanotoxin produced by some algae.
In 2010, there were 48 human illnesses reported to the Ohio Department of Health related to algae exposure. Dogs were also found to be vulnerable to the toxins, with five canine deaths reported that year. In 2011, Lake Erie hosted a record size algal bloom.
"We needed to develop a strategy to protect the public, to come up with a consistent sampling protocol and to establish thresholds," said Linda Merchant-Masonbrink, HAB coordinator with the Ohio EPA's Division of Surface Water.
The first hurdle was to establish safety thresholds for cyanotoxins since there were no federal thresholds to go by. The only threshold that existed was from the World Health Organization, which set adult thresholds for microcystin.
"Ohio determined thresholds for 4 toxins detected in Ohio," said Merchant-Masonbrink. "The recreational thresholds are based on a 15 kilogram child. The drinking water thresholds are based on a 60 kilogram adult." Those four toxins are microcystin, anatoxin-a, cylindrospermopsin and saxitoxin.
The Inland Lakes Monitoring program is meant to respond to the toxins, says Merchant-Masonbrink. It is run by the Ohio EPA, but there are two other state agencies important to the effort: Department of Health and the Department of Natural Resources.
The Health Department reviews illness reports to determine if they're related to algal toxins and determines advisory thresholds along with ODNR and the Ohio EPA. The ODNR monitors state park lakes for algal bloom development, samples when blooms are sited and posts advisories. Ohio EPA provides training for sampling collection, maintains HAB databases and interprets satellite imagery.
All three agencies participate in some form of outreach to educate the public about toxic algae. County health departments pass along state advisories. Ohio EPA helps beach managers by providing information on algal blooms and works with charter boat captains who take samples when they're traversing Ohio lakes.
In addition to outreach, protocols for managing algal blooms have been put in place. If a toxic bloom is detected in a lake, advisories are issued to let the public know that it's potentially unsafe to enter the water. Monitoring of toxin levels is stopped and advisories are lifted only after two consecutive samples taken a week apart show toxin levels are below state thresholds and the bloom disappears. That applies to recreational waters.
For public water systems and drinking water, the Ohio EPA has published guides to help public water systems identify and manage HABs, as well as report them.
"It's difficult to track HABs because some of the blooms are transient or could just look like turbidity," said Merchant-Masonbrink. "Tracking toxins is hard because many cyanobacteria don't produce toxins and those that do don't produce them all the time."
Tracking harmful algal blooms goes hand in hand with tracking phosphorus, the main contributor to the growths. To do that, the state of Ohio convened a phosphorus task force. The first phase of the task force's work was completed in 2010. The second phase was convened in 2011 and a final report was released in spring 2013.
"We need better integration between research, the scientists and public policy," said Gail Hesse, chair of the task force. "2008, 2010 and 2011 were all pivotal change years for different reasons."
But each pivotal year brought the same conclusion.
"We should never, ever stop monitoring and observing these systems," said Jeff Reutter, director of the Ohio Sea Grant College Program and Ohio State University's Stone Laboratory. "Because when we solved it back in the '80s, we stopped because 'We got that problem solved and no need to waste money on that issue because that's a done deal.' Now it's back and we weren't out there observing it."
Image: Algae among the docks near Ohio State University's Stone Lab on Lake Erie (Credit: Daniel Kelly)