Ohio city debates water contamination threat resolution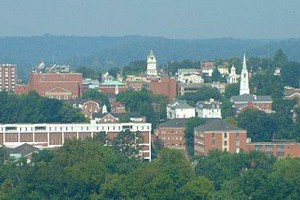 Athens, Ohio city officials debated purchasing a degrading abandoned gas station and the implications it may have for clean water, according to College Green Magazine.
The gas station is within city limits and old gas tanks in the ground may be contaminating the city's well head.
If the city purchases the property, they will remove the tanks and test the area for hazardous chemicals. Some city council members support the issue saying water quality takes priority over cost.
Athens Mayor Paul Wiehl said funds for the purchase and cleanup are not within in the city's budget.
The only alternative is to wait for the state of Ohio to deal with the property, something some council members support.
Image: Athens, Ohio (Credit: OHIO fan, via Wikimedia Commons)