Ohio State Data Buoy Captures Lake Erie's Real-Time Conditions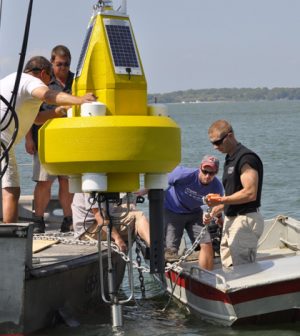 Dr. Justin Chaffin prepares to deploy a data buoy in Lake Erie. (Credit: Ohio Sea Grant)
A research buoy operated by Ohio State University's Stone Lab is deployed in Lake Erie and keeping an eye on water quality around Put-in-Bay, Ohio. Data from the platform are available online in real time.
Some of the information collected pertain to chlorophyll content, cyanobacteria, suspended solids and nutrients like nitrogen and phosphorus. Measuring those parameters and others help Ohio State researchers keep an eye on harmful algal blooms in the lake.
The data buoy was first deployed in 2014, following the Toledo Water Crisis that saw drinking water unavailable for nearly half a million people. This year's deployment marks its second season of keeping an eye on Lake Erie.
In addition to Stone Lab's website, data from the buoy are also available on the Great Lakes Observing System's Harmful Algal Blooms Data Portal and a WQData LIVE web datacenter.
Top image: Dr. Justin Chaffin prepares to deploy a data buoy in Lake Erie. (Credit: Ohio Sea Grant)