Oklahoma study finds sustainable algal bloom monitoring possible with digital photos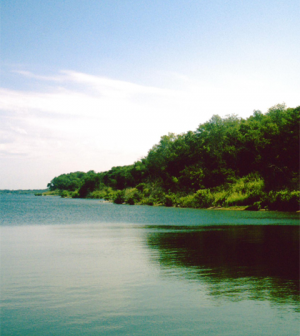 Harmful algal blooms infested many Oklahoma lakes in 2011, leaching toxins into the water and creating an unsightly sludge.
Oklahoma state officials were scratching their heads, trying to figure out how to monitor the blooms in a cost effective manner. A group of University of Oklahoma professors and researchers decided to put their heads together, meshing their specialties. Together they found a sustainable monitoring solution in digital photographs.
Traditionally Oklahoma environmental monitoring professionals and researchers sample certain lakes on an annual rotating basis. Sampling all the afflicted lakes in the 2011 bloom, though, amounted to millions of dollars the state didn't have in the budget. The cost was also not likely to make it into the state's annual budget in the future.
Xiangming Xiao, associate director of OU's Center for Spatial Analysis, said a group of OU researchers and professors started trying to think of a preliminary data collection method that wouldn't require widespread sampling.
Contributors David Hambright, an OU biology professor, and Robert W. Puls, director of Oklahoma Water Survey and OU associate professor of atmospheric and geographic sciences, knew the lakes and biological methods. Xiao was still somewhat of a newcomer to the school when the project began.  "I came and said, 'Maybe we can also think about remote sensing,'" Xiao said.
With the help of OU researchers Jinheng Zhang and Chandrashekhar Biradar, the team started to experiment with digital photography analysis.
The scientists took photos across Lake Texoma with a Ex-H20G Hybrid-GPS camera, which tags files with location coordinates. Then they analyzed the red and green concentrations in the photos with ENVI spectral software. When compared with water samples in the same locations taken on the same day, the researchers found very similar chlorophyll and blue green algae concentration values. Predictions based on digital photos were very close to chemically analyzed water samples.
"The camera photos, in our view, are used as entry-level data," Xiao said. "Eventually you still need to have data samples and chemical analysis in the lab."
The new method hasn't been standardized and isn't yet repeatable with just any camera. Xiao said a smartphone application is in the works.
Citizens' photos could eventually tip off water monitoring professionals to lakes that need attention. GPS stamps could give scientists a notion of ideal sampling locations on large lakes. The photos would also be free information that reduce state costs by improving planning and reducing site visits.
Anyone can catalog photos of algae in Oklahoma lakes on the University of Oklahoma's Earth Observation and Modeling website in the their Global Geo-Referenced Field Photo Library.
The research team also experimented with satellite imagery, using free archived photos from LandSat, Worldview 2 and the Rapid Eye Satellite Constellation.
Again the observation focused on the green and red spectral bands of satellite images. This time though, they converted pixels covering sample sites into top-of- the-atmosphere-radiance images. Then they used the 6S mathematical model to further refine the color spectrum.
The researchers compared image based estimates to site samples, from the same day. Again they found strong correlations, leading them to believe it is possible to quantify algae concentrations with satellite imagery.
Harmful algal blooms may be a rising threat, but University of Oklahoma researchers have shown that a widespread monitoring solution is possible with readily available technology. It also has the added benefit of getting people outside to see the water and woods around them.
Top image: Lake Texoma (Credit: Robert Nunnally, via Flickr)