One degree of warming could cut Kansas wheat production by 20 percent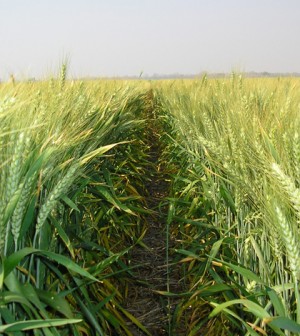 A study from Kansas State University predicts that just one degree of warming could cut Kansas' wheat production numbers by 20 percent. The state has put considerable effort into bringing its wheat crop back from two solid years of drought.
This year is the first since 2010 that Kansas farmers planting winter wheat have made a profit, according to the Kansas City Star. The drought years and the study denote just how sensitive wheat production is to rising temperatures.
A one-degree Celsius increase, the study notes, would cut production by almost 11 bushels of wheat per acre. Three degrees of warming would cut it by nearly 33 per acre.
Image: Wheat field (Credit: Wikimedia Commons)