Online tutorials teach youth about fracking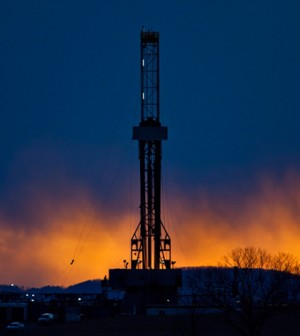 Image: Hydraulic fracturing drill rig in Pennsylvania (Credit: Environmental Protection Agency)
The Penn State University Extension is launching online tutorials meant to teach youth about water's role in shale gas drilling, according to a release. The web series is targeted at children at the sixth- through ninth-grade levels.
There are two presentations available online. The first discusses water's journey through drilling and production processes, while the second looks at issues and misconceptions surrounding fracking.
Water is a critical part of the fracking process. While the web series looking at its role is aimed at youth, developers say adults can also benefit from the tutorials, given broad unfamiliarity with the process.
Image: Hydraulic fracturing drill rig in Pennsylvania (Credit: Environmental Protection Agency)