Oregon stream temperature regulations prove effective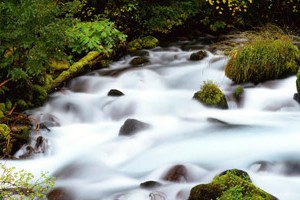 Oregon laws meant to keep timber harvests from warming the state's cold streams appear to be working, according to a study by state and university scientists.
The study focused on the mountains of the Oregon Coast Range, which squeeze rain from the moist clouds that blow in from the Pacific Ocean and give rise to many fish-bearing streams. The mountains are also covered in conifers that make Oregon one of the nation's top lumber-producing states.
But those trees shade streams, keeping them cool and suitable for important fish like salmon, steelhead, and cutthroat trout. To make sure timber harvests don't warm streams and threaten fish, the state's Forest Practices Act restricts cutting trees in buffer strips of land along fish-bearing streams. The state follows an even more restrictive set of buffer rules when harvesting from state-owned forests.
A nine-year study of those restrictions shows that they are mostly working, according to Liz Dent, study co-author and aquatic and riparian specialist with the Oregon Department of Forestry's State Forests Division. Streams on private land warmed an average of 0.7 degrees Celsius after timber harvest, according to the results published in Forest Ecology and Management. Streams near harvests in state forests, on average, didn't warm at all.
Past studies have shown that harvests without buffer strips can warm streams by as much as 11 degrees Celsius.
"It's a vast improvement over those findings from the past where buffers were not required and there were very few restrictions around streams," Dent said. "Definitely a huge improvement."
Researchers collected temperature data in fish-bearing streams at 33 harvest sites on private and state-owned land. Temperature probes installed upstream and downstream of the sites continuously recorded data for several years before and after harvest.
Collecting so much data at so many sites helped the researchers ensure any temperature changes they found weren't just the result of yearly fluctuations or a single stream's quirks, according to Jeremy Groom, the study's lead author and a faculty research associate in Oregon State University's department of Forest Engineering, Resources, and Management.
"We're really trying to just nail down that, if we see a change, we can attribute it as best we can to harvest," Groom said.
The study plays an important role in how this state sets the clean water standards required by federal environmental laws.
While the Oregon Department of Forestry enforces the state's buffer-mandating Forest Practices Act, the state's Department of Environmental Quality enforces the federal Clean Water Act. Under that authority, the DEQ set a cold water protection standard that says no human activity can raise a cold-water stream's temperature by more than 0.3 degrees Celsius.
But rather than enforcing that rule themselves, the DEQ assumes that landowners are meeting the cold water standard as long as they're following the state's Forest Practices Act. This arrangement requires scientists like Groom and Dent to occasionally evaluate whether the protective steps required by the Forest Practices Act are actually enough to meet the DEQ's standard.
"The assumption is made that those criteria are being met so long as the Department of Forestry conducts monitoring to verify that its rules are sufficient to meet those standards," Groom said. "This project was directly a test of those standards."
While the project shows that the warming effects of timber harvests are a fraction of what they once were, the study also found that harvests on private lands raised stream temperatures an average of 0.7 degrees Celsius—slightly higher than the DEQ's 0.3-degree standard. Meanwhile, harvests in state forests under more stringent buffer requirements met the DEQ's standard.
Oregon's board of forestry will decide if the results warrant beefing up the buffer requirements. That decision won't be easy, Dent said. Even though some private harvests warmed streams beyond the DEQ's standard, the temperature increases were generally small, localized, and short-lived.
That is a hard place for a policy group to make a decision, Dent said.
"It looks like an easy decision if you say, 'Well, they're not meeting the DEQ water quality standard, that seems like a no-brainer,'" she said. "But it's actually a lot more complicated than that."
Image Credits: citypictures.org/phombo.com