OTT MF Pro: The OTT magnetic flow meter simplifies discharge measurements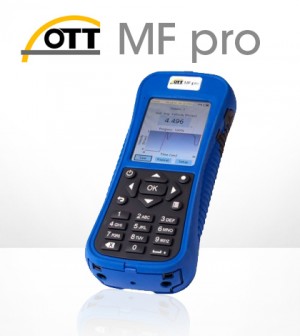 OTT's new magnetic flowmeter offers a robust handheld, simple calibration and advanced software in a user-friendly package. The OTT MF Pro's magnetic sensor easily measures discharge in shallow, rough, or sediment-stained streams.
The handheld is lightweight, water-resistant and features a full-color display visible in bright sunlight. Its buttons were designed to be pressable while wearing gloves, which will help users sampling in colder climates.
"I would say the biggest new feature available on the OTT MF Pro is the unit's handheld," said Nick Rendall, marketing communications manager at Hach Hydromet. "You don't have to be a seasoned flow specialist to use the meter."
Rendall said they strived to make the handheld very user-friendly, which is also evident inside the unit. Its software automatically calculates discharge and graphs velocity in real time. It has prompts that walk a user through the process of taking a flow reading.
Setup, measurement and data handling can be managed through the handheld. All data can be read at once and is recorded automatically. Error readings are also excluded automatically from records.
Calibrating the flow meter is very simple. The MF Pro does an air calibration when the sensor is removed from the water.
"Calibrating the OTT MF Pro is as simple as pulling it out of the water for a few seconds," said Rendall.
The technology within the meter is ideal for measuring in low flow, shallow water or in water containing sediment or weeds. The meter has no mechanical parts and needs little maintenance. Improvements, including those to calibration, software and the handheld were brought about after considering customer feedback, Rendall said.
Readings can be carried out by one person and an optional pressure cell takes automatic depth measurements and aids in sensor positioning. Without an integrated depth sensor, users measure approximate depth off the wading rod, which Rendall said is cumbersome and not very accurate in rough waters.
"As any flow measurement specialist will tell you, continually bending over to take manual depth measurements off of a wading rod gets tiring pretty fast," said Rendall.