Parasite Behind Yellowstone River Fish Kill Found In Other Rivers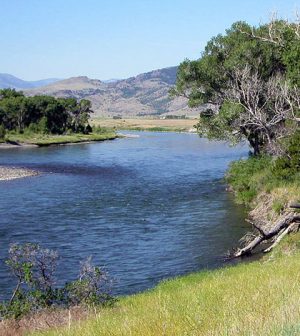 Yellowstone River. (Credit: Public Domain)
A parasite that caused a massive fish kill in Montana's Yellowstone River has been found in at least seven other rivers in the state, according to the Bozeman Daily Chronicle. Scientists with the Montana Fish, Wildlife and Parks department made the find.
So far, the parasite has been confirmed in the upper and lower Madison, East Gallatin, Bighorn, Stillwater, and Boulder Rivers. It had already been confirmed in the Jefferson and Shields Rivers.
The microscopic parasite causes proliferative kidney disease, one of the most serious diseases to impact whitefish and trout. The effect of the disease on Yellowstone's fish populations is exacerbated by other stressors like near-record low flows, consistent high temperatures and the disturbance caused by recreational activities. And it has caused fish kills in the Snake River system in eastern Idaho in the last five years.
State biologists aren't surprised that the parasite is present in the other rivers, and they suspect that it has likely spread farther than they can know. Additional work is underway to learn more about the parasite's spread elsewhere in the state.
In August of this year, state scientists confirmed the deaths of at least 4,000 whitefish due to the parasite's presence in the Yellowstone River. As the damage worsened, the total death toll for whitefish was estimated to be in the tens of thousands. Some trout were also found dead. In response, Montana officials shut down recreation on a large portion of the river. The closure ended in September.
The parasite can easily be spread between river systems on gear or animals. Biologists had begun taking samples from other streams soon after the fish kill started. Samples from the main Gallatin River were negative, as were some from a few tributaries of the Yellowstone. Samples from other rivers are still being analyzed.
Top image: Yellowstone River. (Credit: Public Domain)