Pennsylvania to monitor radiation at fracking sites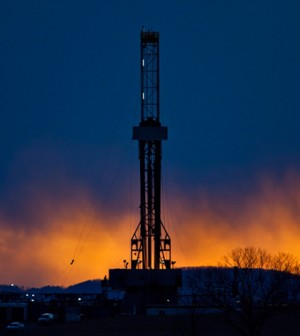 Image: Hydraulic fracturing drill rig in Pennsylvania (Credit: Environmental Protection Agency)
The Pennsylvania Department of Environmental Protection is expanding its monitoring of oil and gas fracking sites in the state, according to The New York Times. The agency will be examining the levels of naturally occurring radiation in water, rock and drilling waste at drilling sites.
The measures are said to be precautionary and not indicative of increasing radiation or faulty drilling practices.
Hydraulic fracturing, which involves injecting chemicals and water deep into underground rock for the extraction of fossil fuels, runs the risk of polluting fracking sites' surrounding habitats with naturally occurring underground radiation if not properly executed.
State officials in New York are also surveying the potential risks of fracking before sanctioning drilling within the state.
Image: Fracking drill rig in Pennsylvania (Credit: U.S. Environmental Protection Agency)