Plume of Elwha's undammed sediment is good news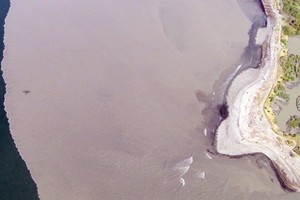 A century's worth of sediment is flowing from the site of a former reservoir Elwha River in Washington, a result of the first phase of the biggest dam removal in North America, according to a report from the Seattle Times.
The release is causing a dramatic brown plume in the Strait of Juan de Fuca at the Elwha River's mouth, but scientists say the sediment's arrival is welcome and should help rebuild shorelines that have eroded without silt and clay from the river.
Read more at the Seattle Times.
Image credit: Tom Roorda.