Poll shows public divided on fracking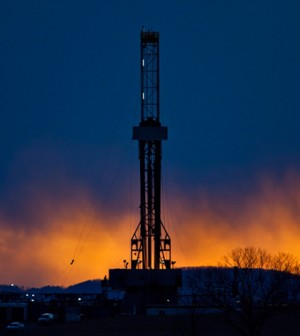 Image: Hydraulic fracturing drill rig in Pennsylvania (Credit: Environmental Protection Agency)
A survey from the University of Texas shows the public has mixed feelings on fracking, the industrial method of pumping water and chemicals underground to crack rock formations to free natural gas. Results of the poll indicate that Americans want more natural gas production in the U.S., but are split in their support of fracking.
More than 2,000 adults were polled. Sixty-two percent supported expanding U.S. production of natural gas, but those familiar with fracking were divided: 45 percent supported the practice, while 41 percent opposed it.
When it came to fracking on public lands, 41 percent of the respondents wanted to promote it and 36 percent wanted to ban it. Respondents were mostly supportive of increased fracking regulation, with 66 percent supporting more oversight of the method overall.
Image: Hydraulic fracturing drill rig in Pennsylvania (Credit: Environmental Protection Agency)