Pollution and algae plume nears drinking water intake on Lake Ontario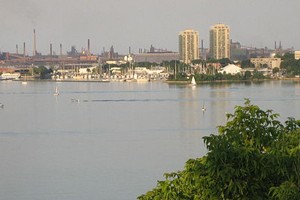 Canadian researchers are tracking a large plume of pollution and algae that stems from the Hamilton, Ont. harbor and drifts toward the city's drinking water intake, according to the Hamilton Spectator.
The research, conducted by the Hamilton-Halton source water protection committee, will be used to model potential failure of sewage treatment plants, which are in the Lake Ontario harbor.
The city's drinking water intake is five kilometers from the harbor, but the plume trends to drift in its direction, research shows. Once close to the intake, strong winds push pollution down into the water column near the eight-meter-deep intake pipe.
A city official quoted in the story said that the city has a powerful water treatment process that currently keeps water safe and consumable despite the plume of algae and pollution.
Image: Hamilton Harbor (Credit: Rick Cordeiro, via Wikimedia Commons)