Power plant cooling water a boon to Florida crocs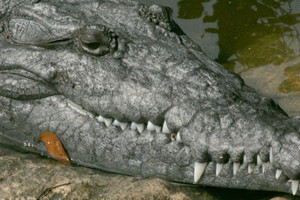 American crocodiles were endangered in the state of Florida, but their population continues to increase—even in the cooling water from a nuclear power plant, according to an Associated Press article.
Biologists hired by the public utility Florida Power and Light monitor crocodile hatchlings in cooling water canals at the Turkey Point Nuclear Power Plant, attaching tracking devices after the infants break out of their shells.
Biologists started monitoring the crocodiles in 1978 and have found that the population has increased approximately five fold during a 40 year period. One of the biologists, Mario Adelco, said nests increased from 10 in the 1970s to 100 this year.
The man-made habitat seems, in this case, to contradict traditional environmental thought, which considers the unnaturally hot water thermal pollution. Instead, the plant's cooling water offers the ideal temperature for crocodile gestation and hatching.
Image credit: National Park Service, via Wikimedia Commons.