Precipitation Most Important For Western Snowpack, To A Point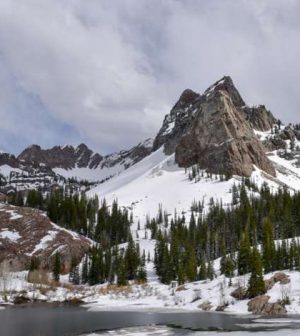 Sundial Peak, in the Wasatch Mountains. (Credit: David White)
Scientists at the University of Utah have further pinpointed the dynamics at play in the buildup of snowpack, according to a release. Their research focused on Utah's Wasatch Mountains as well as other ranges in the West. Snowpack is important for skiing but also contributes greatly to water supplies in the West.
Much of the work relied on a high-resolution, regional-scale climate model called the Weather Research and Forecasting Model. Investigators used it to figure out the threshold at which temperatures or precipitation are most important in determining how much snowpack there will be. Essentially, whether a year is wet largely matters more than if it's warm. But that changes below a level at which temperatures become more important.
Researchers say that the threshold will shift uphill by about 800 feet in the Wasatch range by the end of the century, setting up important changes in snowpack that managers will have to consider. The moves uphill are predicted to be more extreme for areas in the Sierra Nevada, Cascades Mountains and Rocky Mountains.
Top image: Sundial Peak, in the Wasatch Mountains. (Credit: David White)