Some Prehistoric Humans Survived On Salmon Year Round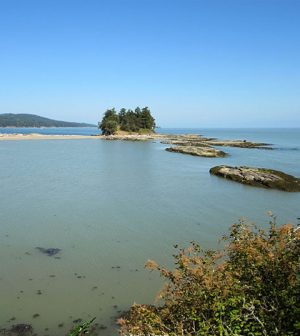 A protected lagoon in Canada's Dionisio Point Provincial Park, Galiano Island, British Columbia. (Credit: David Stanley / CC BY 2.0)
In order to understand the lifestyles of prehistoric humans, scientists have gone to great lengths. Digging, excavating and dating, they have uncovered neat things from broomsticks to cooking utensils.
But perhaps more exciting than those everyday items would be the ability to use information gleaned from digs to figure out more in-depth things about how the earliest humans lived. That's exactly what a study led by researchers at Washington State University did for a long-lost fishing village buried by dirt in British Columbia's Dionisio Point.
Scientists involved with the study were able to use bone segments of 70 different dug-up salmonid fish to determine exactly what sort of fish that village residents were relying on to survive. With that knowledge, it was possible for the scientists to infer when the residents were living there with remarkable accuracy.
The bones were pulled from one excavated plankhouse at the Dionisio site.
"I've been working in fish genealogy and was working with an archaeologist on the coast of British Columbia who was looking at garbage," said Brian Kemp, associate professor of anthropology and biology at Washington State University and a co-author on the study published in the Journal of Archaeological Science. "He (Colin Grier, also at Washington State) found abundant remains of fish at a site in British Columbia on an island off Vancouver Island (Dionisio Point) and we used them to see what sort of salmon these people were relying on."
By evaluating so many bone samples, typically with DNA sequencing and barcoding techniques, Kemp says it gave the researchers a good idea of the types of salmon the early humans were fishing for.
"Coupled with osteometric measures, we determine that residents of the plankhouse fished primarily for chum, sockeye and pink salmon, with a lesser emphasis on chinook, coho and steelhead," authors write in the study.
From there, Kemp says it was relatively simple to surmise when the ancient peoples were living at the fishing village. That's because their time there would have to coincide with salmon runs.
"It's really easy to determine over thousands of years," said Kemp. "But we were able to determine that they were there in the fall. The humans had to be there to catch them."
It is unclear if any similar studies exist, but Kemp says that the Dionisio Point study was done well enough that it can serve as an example for others that could come in the future.
"The temporal span of our studies were very little, 100 years or maybe 1,000 years at the max," said Kemp. "We're able to say more concerning things about the (ancient) people."
What's more, the investigation's results make for some insightful reading about the lifestyles of early humans in the region.
"From my perspective, it's really hard for anybody to live in one location year round. Our argument was that they were there year round and surviving," said Kemp. "It speaks of those people a lot that they could do that so long ago."
Top image: A protected lagoon in Canada's Dionisio Point Provincial Park, Galiano Island, British Columbia. (Credit: David Stanley / CC BY 2.0)