Princeton and Australian National researchers: Worldwide drought trend overestimated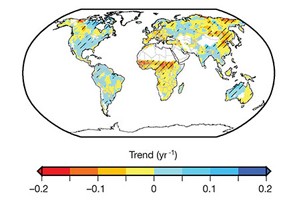 New research from Princeton University and the Australian National University has found that a model used to assess drought worldwide has overestimated its severity, according to a release. Published in the journal Nature, the study challenges the long-used Palmer Index, which relies heavily on temperature to estimate drought's extent.
The researchers wanted to see if there were better alternatives to the index, saying it has been widely used because of its simplicity. The study suggests that other measurements, like wind speed, solar radiation and humidity should also be taken into account when estimating drought severity.
In considering those other factors, the suggested model would require a greater amount of data, which could make it more difficult to use.
Image: Red areas have experienced increasing levels of drought while blue areas have become less prone to dry conditions. Overall, there has been less of a trend toward drought globally than previously thought. (Credit: Justin Sheffield)