Prototype Air Quality Sensors Tackle Delhi, India Air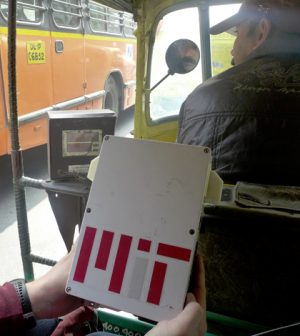 David Hagan, doctoral candidate at the Massachusetts Institute of Technology, frequently takes his sensor on rides around Delhi, India in auto-rickshaws that fill the Indian capital's streets. Rickshaw drivers and passengers are exposed to some of the highest levels of air pollution in the world. (Credit: Shriya Parekh / Massachusetts Institute of Technology)
The air quality in Delhi, India is poor owing to emissions from a wide variety of sources, such as biomass burning, automobile exhausts and fossil fuel use. But the city also has a poor location that seems to make things worse. It's hot and humid in the summer, while an inversion layer — where temperature in the atmosphere increases with altitude — settles in during the winter. Air quality sensors in development by researchers at Massachusetts Institute of Technology (MIT) may help to alleviate some of those issues.
Jesse Kroll, associate professor of civil and environmental engineering, along with David Hagan, doctoral candidate at the university, are looking to address a lack of specific air quality data that has for some time frustrated governments and researchers working to understand the complex environment of the mega city, with a population estimated around 25 million. To do that, they've put together an air quality sensing platform and are testing it around the city.
The goal for the compact, low-cost air quality sensors is to one day deploy them in dense networks across Delhi, as well as other mega cities such as Beijing in China, to log accurate, real-time data on the chemistry of the air. Currently, they gather measurements of particulate matter, volatile organic compounds and gases including carbon monoxide, nitrogen oxide and dioxide, ozone and sulfur dioxide.
The sensors are built so that their accuracy is better than more inexpensively designed air quality sensors out there while still coming in at a cost, about $1,500 per unit, that is much cheaper than regulatory-grade air sensors used in India. Those can cost anywhere from $50,000 to $100,000 a piece, a cost that is prohibitive to large networks.
The design of the air-sensing units is fairly straightforward. An air intake allows Delhi's smog to pass through. As it does, gas data are collected along with particulate matter measurements down to an impressive 380 nanometers in size. A microcontroller and circuit board process the information and then send it via cellular telemetry back to the researchers to inspect.
Kroll and Hagan already have several sensor prototypes on the ground in India, reporting data to a remote server every 30 seconds. Two units are located at Nehru Place in south Delhi and four are near Connaught Place in central Delhi, co-located with a regulatory-grade sensor for calibration. Two more are in the city of Pune, near Mumbai, and one is mobile so that it can be taken on rickshaw rides around Delhi.
That sort of spatial coverage is what the team is aiming for, in addition to recording measurements that can be easily compared to data collected by large, government air quality sensors. A better data set, with reliable measurements and broad coverage, could greatly help people living in the city. Levels of particulate matter are particularly concerning in Delhi, as they range from 150 to 1,000 micrograms per cubic meter and are dozens of times higher than those in American cities like Manhattan.
Part of the journey for the investigators has been learning how the sensors will respond to a diverse set of environmental circumstances. They, along with other MIT researchers, have subjected different generations of sensors to the seasonal extremes of the Boston area, where two small grids are up and running, and to the highly variable conditions around the Hawaiian volcano Kilauea.
Now, with a refined prototype, they're beginning to see how the intense heat and dirty air of Delhi will affect the sensor's performance. For example, one of the Nehru Place sensors once became so clogged with black grime that air could no longer pass through and oddly began to record low pollutant numbers.
In the future, the developers would like to lessen the sensors' power draw and beef up its filtration system to better prevent clogging. They are also maintaining and updating algorithms to interpret sensor data and looking forward to potential applications in indoor air quality monitoring and smartphone apps to show people real-time data on the air they're breathing.
Support for the research was provided by the MIT Tata Center for Technology and Design.
Top image: David Hagan, doctoral candidate at the Massachusetts Institute of Technology, frequently takes his sensor on rides around Delhi, India in auto-rickshaws that fill the Indian capital's streets. Rickshaw drivers and passengers are exposed to some of the highest levels of air pollution in the world. (Credit: Shriya Parekh / Massachusetts Institute of Technology)