Puget Sound acidity threatens shellfish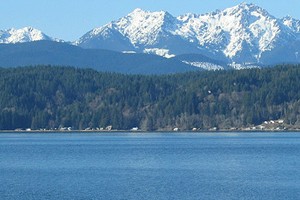 Puget Sound is becoming more acidic during some seasons, according to a new report from the Puget Sound Ecosystem Monitoring Program (PDF).
Increased acidity makes it difficult for shellfish to synthesize shell material, according to a Center for Biological Diversity press release on the report. The state of Washington classified the Puget Sound as "waters of concern" in January because of threatened shellfish.
Scientists monitored the Sound from the Strait of Juan de Fuca to the Hood Canal. Data shows water in the Great Bend of the Hood Canal is particularly acidic during late summer and fall.
Various factors, such as increased carbon dioxide from human activity and naturally occurring processes, make water more acidic. Carbon dioxide combines with water to form carbonic acid, according to the report.
Researchers started recording alkalinity data and calculating pH levels in the Sound in 2008.
Image: Olympic Mountains over the Hood Canal (Credit: Lana_aka_BADGRL, via Flickr)