Raccoon feces fueling Lake Michigan beach's bacterial pollution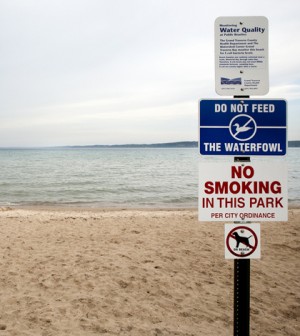 Officials in Traverse City, Mich., have found the cause of bacterial pollution long plaguing Grand Traverse Bay, according to the Associated Press. The source, they say, is raccoon feces.
Raccoons have been spotted by storm drains in nearby East Bay Park, and investigators looking into the pollution have found hundreds of pounds of the biological waste in the drains.
The bay has dealt with high E. coli levels for years and city planners want to apply for a $768,000 grant from the Great Lakes Restoration Initiative to build a filtering system that should reduce the bacterial pollution.
The proposed system will filter storm drain water through an oil and dirt separator into a three-section settling tank to catch heavier sediment, like cigarette butts and pine needles. Water would then pass through filters treated with an antimicrobial substance to kill bacteria.
Image: Grand Traverse Bay beach (Credit: Chase O'Black, via Flickr)