Rain lifts Great Lakes levels, but no ice to keep them there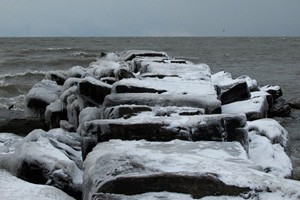 Wet weather has pushed Great Lakes levels higher than last year, but that could be negated if a warm winter prevents evaporation-blocking ice cover from forming on the lakes, according to the U.S. Army Corps of Engineers' lake level forecast.
Lake Erie will rise to 20 inches higher than last year this winter but could drop to a few inches below last year by May or June, a Corps meteorologist said.
Lake levels affect cargo shipping, recreational boating and the timing of algae growth and fish spawning. Though the lakes are higher than last year, Lakes Superior, Huron, and Michigan are below their long-term averages.
Read more at the Detroit News
Image credit: envoked.com