Real-time soil temperature monitoring cuts waste and pollution on Minn. farms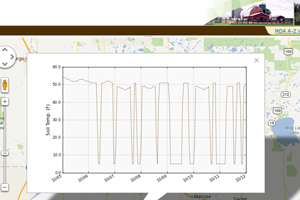 The Minnesota Department of Agriculture is using real-time soil monitoring to minimize wasted fertilizer and reduce watershed pollution, according to a Harvest Land Cooperative article.
The Department of Agriculture created an interactive map that includes graphs of daily soil temperatures for 12 areas in the southern half of the state. The University of Minnesota also publishes regular data on soil temperatures of seven locations.
Department officials recommend that farmers wait to add nitrogen fertilizers to crops until after soil has a mean temperature of below 50 degrees Fahrenheit.
Cold soil slows bacterial growth and bacterial consumption of nutrients in fertilizer, according to the article. Once bacteria consume ammonia, leftover nitrate is highly susceptible to water runoff. This mitigates the effectiveness of fertilizers and sends nutrients into watersheds, which can lead to algal blooms and other problems.
Image: The Minnesota Department of Agriculture's  6 Inch Soil Temperature Network (Credit: Minnesota Department of Agriculture)