SRBC Remote Monitoring Network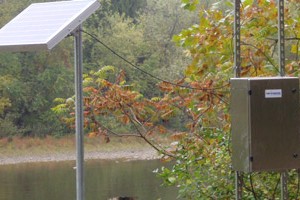 The Susquehanna River Basin Commission (SRBC) is installing 30 remote water quality monitoring stations in the northwestern part of the Susquehanna basin including the border between Pennsylvania and New York. These stations form a remote monitoring network that will broadcast real-time water quality data from local rivers and streams.
Drilling for natural gas in the Marcellus shale formation poses a significant threat to the river basin. Much of the shale lies under the majority of the basin. A monitoring system for the main part of the Susquehanna River is already in place. However, a more comprehensive network was called for after much scrutiny of the water affected by the drilling.
The first systems are scheduled to be installed in the next few weeks after a $750,000 contribution from natural gas company East Resources Inc., based in Warrendale, Pennsylvania.
NexSens Technology is providing the data logging and remote telemetry systems. Each water quality station is composed of a NexSens 3100-iSIC data logger. The 3100-iSIC features a built-in cellular modem that transmits data wirelessly from remote locations. Data being collected includes water temperature, level, pH, conductivity, dissolved oxygen, and turbidity measurements.
The remote monitoring network transmits water quality data in real-time to the SBRC website. There, data may be viewed by officials, scientists, and the public to keep tabs on their local rivers and streams for threat of natural gas pollution as well as any other irregularities in the water.
See the full NexSens case study on this water quality monitoring network.
Also read about how the SRBC has been expanding this monitoring network with new stations, especially in the New York portion of the project.