Repaired wave buoy added to Alaska Ocean Observing System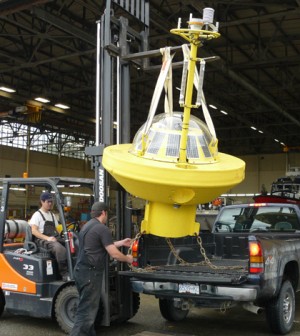 Alaska Ocean Observing System wave buoy (Credit: AOOS)
A repaired wave buoy was recently redeployed in Alaska's Bering Strait.
It will send data to the Alaska Ocean Observing System's data portal, comprised of remotely broadcasting monitoring systems from a variety of organizations.
Workers deployed the Buoy in the strait 35 miles west of Alaska's King Island.
Data collected by the buoy document wave heights, water temperature and air temperature. The buoy will be used to alert village residents living near the Bering Strait of rough seas and inclement weather.
This was the buoy's second deployment. The University of Alaska Fairbanks initially deployed it in 2011. Western Alaska, LCC, funded the repair and redeployment of the buoy.
AOOS, the University of Victoria and the U.S. Coast Guard all aided in logistics and deployment.
Image: Alaska Ocean Observing System wave buoy (Credit: AOOS)