Report blames fracking for Western U.S. water loss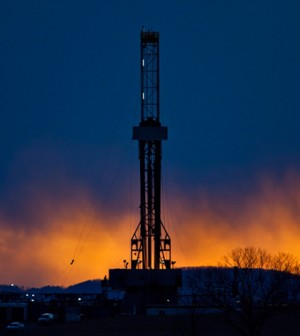 Image: Hydraulic fracturing drill rig in Pennsylvania (Credit: Environmental Protection Agency)
A report from the Western Organization of Resource Councils says fracking is permanently removing billions of gallons of water each year from the hydrologic cycle in the Western U.S., according to a release. The organization says states have failed to place protections on the use and contamination of fresh water used for the mining process.
In just four states – Colorado, Montana, North Dakota and Wyoming – the council reports that seven billion gallons are lost annually. With little federal regulation on fracking, the report says, states have been left to monitor the practice, but simply aren't doing enough to adequately protect water in the arid West.
The report says the Fort Union aquifer in Wyoming has lost 625 feet of water since 1997 from the extraction and disposal of water used for fracking. The organization says replenishing the aquifer will take an estimated 50,000 years.
Image: Hydraulic fracturing drill rig in Pennsylvania (Credit: Environmental Protection Agency)